Runaway semi crashes through wall of school in southern Minnesota
Publication Date:
Tuesday, January 16, 2018
Publication Date Is Approx:
Runaway semi crashes through wall of school in southern Minnesota
Police said incident in Lyle, Minn., easily could have been much worse.
By John Reinan Star Tribune JANUARY 16, 2018 — 9:42PM
Students at a rural Minnesota school were frightened but OK after a runaway semitrailer truck crashed through a wall of the elementary school Tuesday morning in Lyle, Minn., a small town near the Iowa border.
Police said the frightening incident easily could have been much worse.
The semi struck a dividing wall between two classrooms, said Mark May, chief deputy with the Mower County Sheriff's Office. If it had hit a few feet to either side, the entire cab and trailer probably would have plowed through the classroom and into the adjoining classroom, May said.
What's more, one of the truck's fuel tanks ruptured on impact, spilling diesel fuel into the school. May said that it was fortunate that the fuel didn't ignite.
The truck veered off State Hwy. 218 at 8:25 a.m. in the town of 550 residents south of Austin, then rammed into the school, with the truck's cab penetrating the building wall.
"We were talking about Martin Luther King Jr. Day and all of a sudden we just heard this crash," said Jake Woyen, a fourth-grader at the school. "It was scary."
The truck was involved in an accident that caused the driver to lose control, May said, adding that there was no indication the driver tried to brake or steer away from the school after leaving the highway.
"He traveled a heck of a distance," May said. "Why he didn't brake, I don't know."
School officials told parents that two students suffered minor injuries, said Eileen Woyen, Jake's mother. The school followed its emergency evacuation plan and immediately sent the children across the street to Our Saviors Lutheran Church, where their parents were told to pick them up. The children ran out of the school building without coats in the zero-degree weather, Woyen said.
The highway is about 100 yards from the school and the truck had to cross snow-covered ground.
"It was a pretty decent speed to get over the snow and everything," Woyen said.
The Minnesota State Patrol is handling the investigation, May said. The truck driver, whose name was not released, refused medical attention at the scene, he said.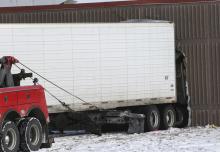 The Minnesota State Patrol investigates a two-vehicle crash Tuesday, Jan. 16, 2018, morning that sent a semi-trailer crashing into Lyle Public School from Hwy. 218 in Lyle, Minn.
ANDREW LINK, ASSOCIATED PRESS