Fett heading to MSU; LP senior signs letter of intent Wednesday
Publication Date:
Wednesday, November 8, 2017
Publication Date Is Approx:
Fett heading to MSU; LP senior signs letter of intent Wednesday
By Rocky Hulne
Published 7:26 pm Wednesday, November 8, 2017
LYLE — Lyle-Pacelli senior Kristi Fett had plenty of support as she cemented her college future in Lyle High School Wednesday.
In front of a full gym of Lyle students, Fett signed her national letter-of-intent to play basketball at Division II Minnesota State University in Mankato under a full athletic scholarship. After the signing she had a line of elementary students lining up to shake her hand and that's when Fett started to realize the impact she was having.
"It's rewarding to know you've made an impact on people by working hard and achieving something you wanted. It's beautiful," Fett said. "It means a lot to me. It shows how much Lyle is a family and everybody supports each other here. Lyle made me who I am today. It's incredible. I think back of how much support I've had through the years and it shows today. It's special."
Fett, a 6-5 post player, averaged 17 points, 12 rebounds and four blocks per game last season for the Athletics, who have dropped the Section 1A West title game to Goodhue in each of the past years after the team went to the Minnesota Class A State Tournament in 2015.
Watching LP play in the state tournament in her freshman season motivated Fett to take more basketball seriously and she began to put in more time over the summer.
"I came in as the tall kid who didn't get a lot of playing time," Fett said. "I was a little unsure and a little uncoordinated probably. Now I'm going to get a scholarship to be a Division II player. The transformation is amazing. I've put in so much time and so much work and it's something I truly wanted."
Fett and the Athletics are hoping to make a push to get back to state this season, but the team will have its work cut out for it as Goodhue will be back and Hayfield has been moved to Section 1A as well.
"I'm super excited for this season," Fett said. "The seniors have to step up and be leaders which I know we can do. I think it will be our most fun season yet."
The Mavericks went 16-11 overall last season and Fett is excited to play at that next level next season.
"I'm looking forward to learning new things and a new basketball system," Fett said. "It's the next level and it's going to be hard for me as a person and a basketball player. I know I'll have to push myself really hard and I know I can do it."
LP will compete in the Dover-Eyota Tournament Nov. 24 and Nov. 25 and it will hold it home opener against Mabel-Canton in Pacelli Gym Nov. 28.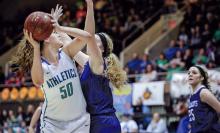 Lyle-Pacelli's Kristi Fett looks to shoot against Goodhue's Lexie Lodermeier during the first half of the Section 1A West Division championship game last year. Herald file photo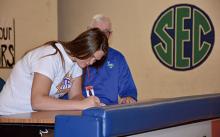 Lyle-Pacelli senior Kristi Fett signs her national letter-of-intent to play basketball at Minnesota State University as LP assistant coach Terry Nelson looks on in Lyle High School Wednesday. Rocky Hulne/sports@austindailyherald.com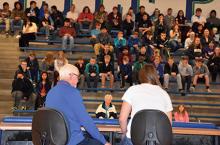 Lyle-Pacelli's Kristi Fett signs her national letter-of-intent to play basketball at Minnesota State University in front of Lyle students at Lyle High School Wednesday. Rocky Hulne/sports@austindailyherald.com